Memphis' ONLY Fiber ProTector Provider
What is Fiber ProTector?
Fiber ProTector is the most advanced and innovative fiber protection available today. It is specially designed to repel stains and soil, provides UV protection, reduces static electricity, and helps inhibit the growth of mold, mildew, and other bacteria.
Why Use Fiber Protector?
Fiber ProTector is a world leader in protective treatment of fabrics and carpets. It does not affect the texture, appearance, or breathability of the fibers, and it will not alter pre-existing fiber treatments such as fire-proofing or anti-static treatments.
Watch our brief video explaining some of the benefits of Fiber ProTector®.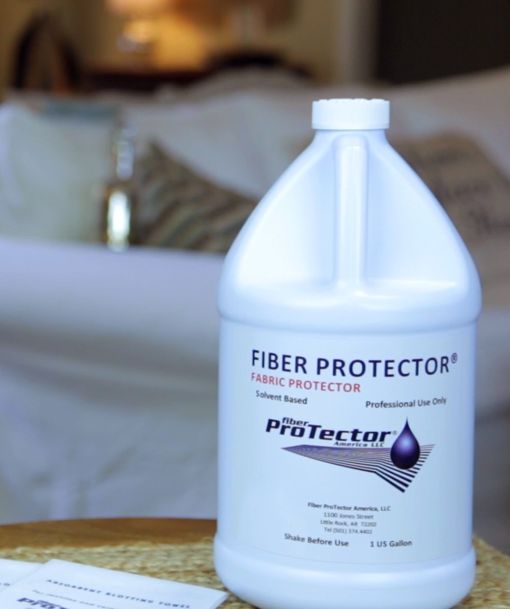 Fiber ProTector® Benefits
Provides more effective stain and spill release

Extends the life and beauty of your textiles
Does not alter the appearance or texture
Does not affect other textile treatments
Protects against ultra-violet (UV) fading
Makes vacuuming more effective
Inhibits mold, mildew, and other bacteria
Improves professional cleaning results
Saving you time and money
Fiber ProTector is used to safely protect all textiles and fabrics – no matter the fiber type.
Wool
Cotton
Silk
Viscose
Tencel
Linen
Velvet
Flax
Synthetics
Animal Hides
Our 3-Year Service Agreement and Spotting Solution is included with each Fiber ProTector treatment.
Year One – If a spill or stains is not able to be removed using our Fiber ProTector Spotter, you are entitled to free spot cleaning up to one year from the application of your Fiber Protector.
Year Two and Year Three – If a spill or stains is not able to be removed using our Fiber ProTector Spotter, you are entitled to a 20% discount on our regularly priced service calls.
Who is using Fiber ProTector?
Homeowners use Fiber ProTector on carpets, area rugs, upholstery, draperies, and other fine fabrics when they want to keep their home looking beautiful.
Interior designers use Fiber ProTector to protect their client's custom fabrics and other textiles from UV fading and stains.
Commercial properties use Fiber ProTector to keep their common areas cleaner longer, and to extend the life of their upholstered furniture.
Realtors and landlords use Fiber ProTector to keep the carpets in their rental properties protected from tenant spills and stains.
While Fiber ProTector does encapsulate every fiber of your carpet, area rug, or upholstery fabric in advanced fiber protection, please understand that this treatment does not make your textiles bulletproof.
Your treated items will still need professional regular maintenance cleaning.
Look what Fiber Protector can do for your wool carpet. This blood spot was so much easier to remove.
5640 Summer Ave, Ste 1.
Memphis, Tennessee 38134